Craving for that perfect summer smoothie? But don't want to splurge on it? Well, affordable blenders have got your back.
And when it comes to inexpensive blenders, what better options than Ninja and KitchenAid? Both these brands are on a mission to fulfill house owners' dream of having rich, perfectly blended food – all within a budget.
Naturally, the blenders of both brands are a topic of comparison. It is even more challenging to figure out which one is better since they offer such good performance.
So to make it easier for you, we have written a ninja vs KitchenAid blender comparison guide. Read on to know the winner of the battle.
Ninja vs KitchenAid Blender
After hours of painstaking research, we have come up with some key pointers to make the ultimate comparison between Ninja and KitchenAid blenders. Here are the key factors of comparison:
The first and foremost thing that any user considers about a blender is its blending capacity. No matter how many gimmicks your blender can perform, if it cannot blend well, it is practically useless.
Ninja blenders, since they take a more "all-in-one" approach, act more like processors or mixers rather than blenders. When you put an ingredient to be blended, it gets finely minced instead of the desired result.
On the other hand, KitchenAid blenders perform the job of blending quite nicely. Focusing only on blending, these machines tend to produce smoothly concentrated results.
Ninja's unique approach can actually be a huge bummer – especially for those who specifically want their blender to just blend. If you make a milkshake or ice cream using the two blenders, you will notice a huge difference in the consistency.
So the term "blender" isn't actually working for the Ninja machines. KitchenAid blenders perform the basic task of blending way better.
However, since processing is a job that Ninja blenders do really well, you can use them for mixing ingredients, crushing ice, etc. In fact, they have superior-quality blades that can match up to actual food processors.
Construction-wise, Ninja and KitchenAid blenders are pretty different. While KitchenAid focuses on variety and appeal, Ninja focuses on robustness and ease of use.
You can easily observe the different brand ideologies in their products. KitchenAid blenders come in many different colors, all unique and attractive. It uses different designs of components for each of its series'. In that price range, not many brands focus on bringing variety in designs, but they do so.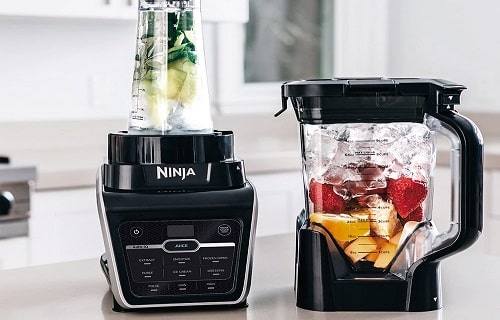 However, if you consider the build, Ninja is far superior to most of its competitors. If you check the quality of their blenders, it clearly shows that they put a lot of effort into their construction. They mostly use plastic for the base, glass for the container, and rubber for the feet.
So, it can be said that sheerly in terms of construction, Ninja is the better pick. For KitchenAid, you will have to compromise with the build a little in exchange for the appearance.
For this factor, we decided to make a comparison between two corresponding blenders from both brands– the Ninja Foodi Cold & Hot Blender and the KitchenAid K150 blender. Comparing this factor was quite tricky since the speed controls of these two machines are quite different.
The maximum speed of the Foodi Cold & Hot blender is 18500 RPM, while the maximum speed of the K150 is 11600 RPM.
While these figures might seem remotely comparable, the difference between the minimum speed of both the blenders is 9600 RPM. It is easier to gain control over the K150 since it has a lower minimum speed.
Both the machines have a pulse mode. However, only the Ninja blender has a switch that allows you to turn the device on or off. Again, speed dial is only available in the K150. Although both the blenders have three speeds, the Foodi Cold & Hot Blender is manual, and the K150 is automated.
As for the noise, the Ninja blender produces much more noise than the other one. Comparing all the factors, we can say that the speed system of the KitchenAid blender is a little better.
We are comparing the power on the basis of the same two blenders from the previous point. Since all the other blenders from the two brands draw out similar figures, this comparison will represent those.
The power of the Ninja blender is 1400 watts, and the power of the K150 is 650 watts. This huge difference in the power of the two devices showcases that Ninja blenders have more powerful motors.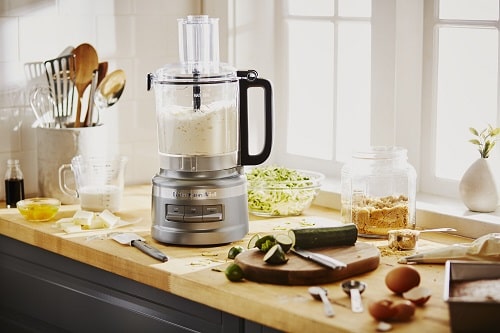 Even compared to more of the advanced series of KitchenAid, like the K400 or the Commercial Culinary Blender series, the Ninja blenders have more power.
Along with the motor, the cable is also part of this discussion. The length of the Ninja cable is a little less (0.1 m difference) than that of the KitchenAid cable. However, it has a compartment that you can use to conceal and store your cord. This compartment is missing from the K150 cable.
In terms of durability, Ninja blenders have the upper hand. Although their prices are low, the company has left no stone unturned to make their structures robust within the limited budget.
This is also the reason why many users have put their faith in Ninja, even though they are not a high-end brand. The fact that they have invested in well-maintained construction has earned them reliability.
Another factor that increases their durability is that a lot of their parts are replaceable. It is not easy to find replaceable blades in blenders, which is offered by Ninja. You can easily replace the containers for these blenders as well. Even the most important part, the motor, is strong enough to last a while.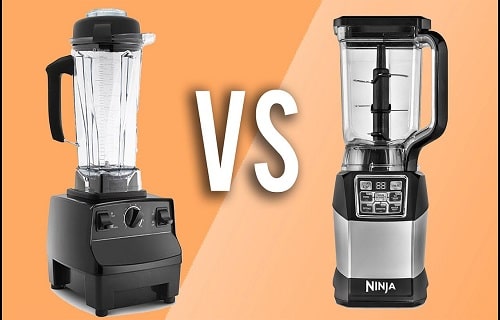 It is not that KitchenAid blenders are not durable at all. In fact, they hold up decent enough. However, in the long run, their blenders seem to get worn out. Their extensively designed containers, especially, are not very sturdy.
Focusing more on creating versatile designs and appearances, KitchenAid has definitely spared on the build of their materials.
All four Ninja products come with different attachments. Since a lot of components are additional and not pre-installed, removal is very easy. Once you get to remove the parts, cleaning becomes a piece of cake. Even their blades are replaceable, which is a huge bonus for them.
Coming to KitchenAid, their blenders are mostly pre-modified, and there is no opportunity to change or replace the components.
This makes cleaning a tad bit difficult. However, the main problem lies in the design of some of the products. Users have complained about their rubber washers stating they were difficult to clean and irreplaceable.
As for the maintenance, low cost, and product construction– both these factors make it easier to maintain Ninja blenders. Since they are not costly, users will be inclined to use them with an easy mind.
But here's the best part. Even though they're cheap, these blenders are sturdier than most of their competitors. In the end, it's a win-win scenario for users. On the other hand, costly KitchenAid blenders will only cause users to pay extra attention.
KitchenAid is the clear winner of this factor. With blenders that cost even less than a hundred dollars, it has undoubtedly made history as one of the most budget-friendly blender brands in the market.
In fact, both brands have blenders that cost less than a hundred dollars. However, Ninja only has four products. Since the product range is limited, the price range is limited as well. On the other hand, KitchenAid has products ranging from meager prices to relatively moderate market prices.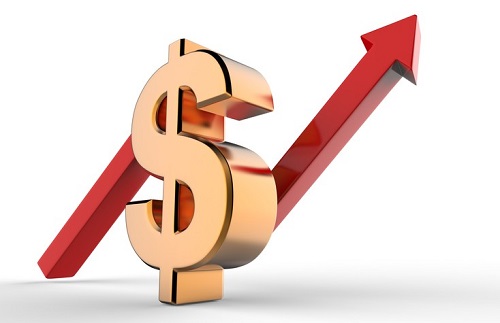 Their NSF® Certified Commercial Enclosure Blender is a professional-use blender that costs very high. Its price point is natural since it is designed for commercial use. Again, their Refurbished 5-Speed Classic Blender is one of the cheapest blenders out there.
Although both the brands are remarkable in producing economical blenders, we pick KitchenAid since it is not just focusing on making more affordable products but has a little something for everyone.
Also Read: Best Food Grade Grease for Kitchenaid Mixer
Our Verdict
Well, this was a tough battle. However, the final winner of the Ninja vs KitchenAid blender battle is Ninja blenders. In this neck-to-neck comparison, Ninja had the upper hand in four out of seven factors.
If you ever have to choose between these two brands of blenders, refer to our comparison. Good luck!